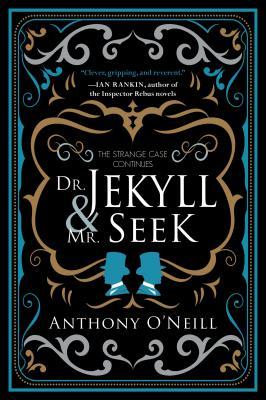 Title: Dr. Jekyll & Mr. Seek
Author: Anthony O'Neill
Release Date: October 2nd, 2018
Available: Amazon/B&N
Add to Goodreads
*I received an ARC copy via NetGalley in exchange for an honest review. This does not effect my review whatsoever*
In this dark, atmospheric sequel to Robert Louis Stevenson's timeless classic, the strange case continues with the return of Dr. Jekyll . . . Seven years after the death of Edward Hyde, a stylish gentleman shows up in foggy London claiming to be Dr. Henry Jekyll. Only Mr. Utterson, Jekyll's faithful lawyer and confidant, knows that he must be an impostor–because Jekyll was Hyde.

But as the man goes about charming Jekyll's friends and reclaiming the estate, and as the bodies of potential challengers start piling up, Utterson is left fearing for his life . . . and questioning his own sanity.
We all know the tragic yet cautionary tale of

Dr. Henry Jekyll

who brewed his potion that transformed him into the monstrous

Mr. Hyde

. Shows you that sometimes the monster within brought out by your addictions can lead to your own demise. This short story takes place seven years after the events of the original and is as shrouded in darkness as the original.

Bodies begin to pile up again after a mysterious figure claiming to be Henry comes out of the shadows, we follow Mr. Utterson as he tries to uncover the truth. Is Henry still alive? Or maybe, just maybe, Mr. Utterson has more to hide than meets the 

eye

?

The author does a fantastic job bringing back the dark atmosphere from the original and catching us up-to-date on the events since Dr. Jekyll's death. However, his handling of Mr. Utterson was much to be desired. I won't spoil it except it's as if he has a personality change from the original to this sequel.

Do I think it was a good sequel? It was adequate, but he needed to research Utterson more.

To those who enjoyed the original tale, I recommend this but do so lightly or you may get offended by how characters were brought back.
Happy Reading!
~C.C.