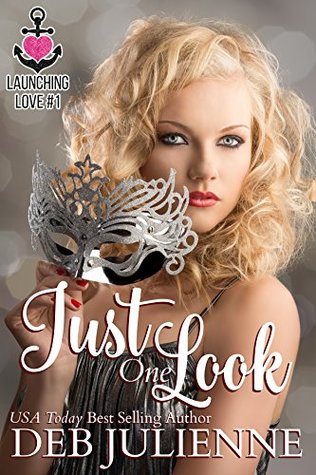 Title: Just One Look
Series: Launching Love #1
Author: Deb Julienne
Published: September 20th, 2017
Available: Amazon
Add to Goodreads
*Disclaimer: I received an ARC copy via NetGalley and Kindred Ink Press LLC in exchange for an honest review. This does not effect my review whatsoever.*
Synopsis

On a secret mission for her entrepreneur father, Diana Tolliver (aka Diana Clay) finds herself unexpectedly alone on a singles cruise. She befriends another solo female passenger, and they play a game to make their would-be-boring cruise a bit more fun. Each woman must pick out a single male for the other to date for the duration of the cruise.

JJ Westbrook is working his final gig as band manager for his best friend, country singer Hunter Cross, leaving to pursue a new job. While on the deck of the cruise ship, JJ spots a blonde goddess and is captivated.

When mutual friends reconnect, Diana and JJ are set up and quickly become enamored with each other, but only have a few chances to sneak away together during their time on the ship. Will they be able go their separate ways after the cruise, or will romance—and careers—bring them together again?
My Review
Short, Sweet, and Oh so tantalizing! Despite being a little over ninety pages or so, this short story will leave you clambering for the sequel especially if you are into romances. It's a hilarious yet loving romp about two unsuspecting people who have a limited amount of time to fall in love, but who will cave first?
Diana Tolliver is abandoned by her friend and assistant Liv on board a singles cruise. Originally, she was sent there on a mission by her father to scope out whether it was worth purchasing by her father. It was supposed to be an innocent business venture alongside Liv. That is, until Liv decided to skip out on her own rendezvous and leave Diana stranded to figure what she'll do next.
Diana quickly rebounds and teams up with another solo girl on the ship and they both go on a mission. They both set up one another with a random male passenger. What could go wrong, right?
Loved the set up, execution, plus all of the characters in this story! Fell in love immediately and could not put it down. If you're looking for a short romantic novel to dive into – pick this one!
Happy Reading,
~C.C.